SIMPLE HACKS TO UPGRADE YOUR HOME DECORATIONS THIS HOLIDAY SEASON
Some of us like spending time shopping for new decorations, some don't really have that much to spare. But it's sure that we all like to feel festive this holiday season. For those who do not have much time to shop, we've listed a couple of hacks for anyone to try upgrading their home decorations for the first time.
Have you done some research on what to upgrade to your decorations at home? Don't feel too pressured and overwhelmed. We'll help you get there! Here are some tips to try to achieve an Instagram worthy home deco set-up this season.
• Putting oversized decorations on your trees (Creating highlights )
If you've put up your tree and ornaments already, don't worry you will not need to put them down again. Filling your tree with oversized decorations is one way to spruce up your good old trees. Simple flat shiny ornaments will do the trick.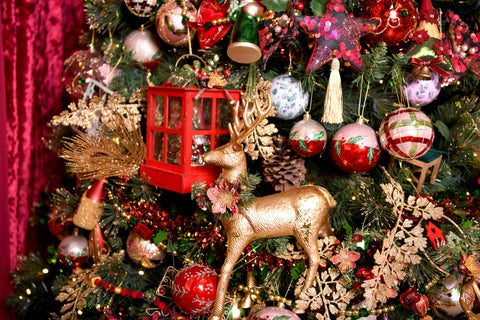 If you want a fancier Instagram photo, you can use your reindeer table decorations and maybe use the cloche decoration you bought last year and hang several pieces of it in the middle of the tree to create a highlight for your tree. This will take your decorating skills to a whole new level.
• Using fabrics as tree garlands and tree skirts
This is (most probably) the best hack to upgrade fast, if you don't have much time to spend on a crafts shop or your go-to store. You can find a fabric of your choice (depending on how tall your tree is…) and use it to fill in your trees as a garland (ex. Fur, Organza… etc.). You can use the same or perhaps a dierent fabric to put it under the tree to cover the tree stands that doesn't really look good on photos. This is also another way to decorate on a budget.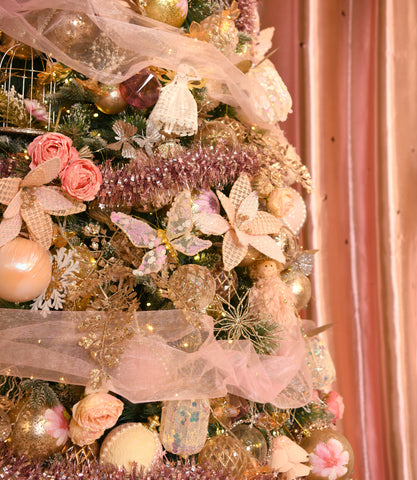 • Newer isn't always better
You probably have Christmas decorations that have been passed on to enerations in your family. Well, better! You only have to buy traditional ones to upgrade the ones you have now, which is always available in every decoration shop. The trick is to follow the colors of the items you already have, so no matter what it is, they will definitely match when they are put together. If the old decorations give you that nostalgic feeling, no worries, it can still be mixed with new traditional decos.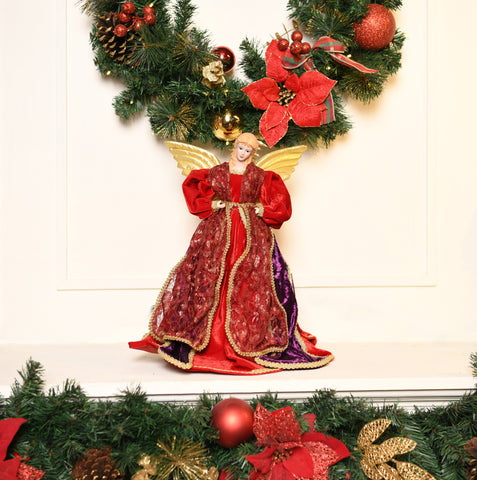 • Picks
You probably see a lot of these in many stores. These are the long stemmed artificial branches of dierent leaves and berries (sometimes flowers too). You'll find a lot in the promo section. Some are cheap and some are really lifelike so those kinds cost more. This is another way to make your trees elegant and festive. Make sure to stick to the theme that you have so the picks won't look so tacky when it's on your tree.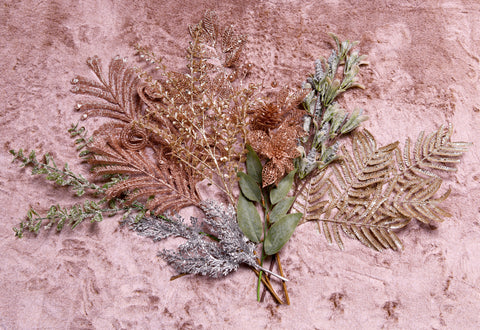 (Tip: For Traditional themes, choose the artificial berry picks, they are always the safest choice to have. For Fashion themes, glittered PE leaves are the best, depending on your theme, you'll just have to choose the right shapes and colors suited for you. If still unsure, depends on what you prefer, anything gold or silver is fine!)
• Improve on something
How about changing the lights? The tree topper? The tree skirts? Adding characters? You do not need to change your whole theme, maybe just by adding a couple of pieces to enhance your existing deco is okay. Maybe just add some accents so you'll get a refreshed feeling to your decors.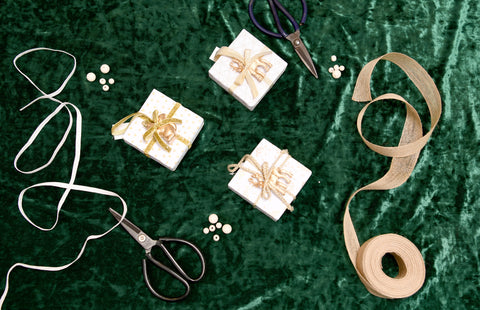 Relax!
You can also just reuse your decos from last year, not a big deal. Not everyone has the luxury to do so, especially if you are living in a shoestring budget. We don't need to live up to anyone's expectations anyways, important thing is to celebrate the holidays with the people we love, it's what matters!
Cheers! Enjoy the Holiday Season!